Free Delivery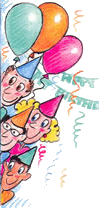 We offer free delivery within the Weston-Super-Mare area, so if your postcode starts with BS22, BS23 or BS24 we will deliver your Party Bags right to your door absolutely free of charge! Please give us a call to let us know the date of your party and to arrange a delivery date.

If you live outside this postcode area please give us a call as we may still be able to offer you Quality Party Bags for Less


Returns Policy
There are often a few children who, in the end, do not actually make it to your party. If you have some Party Bags left over you can return them to us (we are in Weston Village), and providing the bags are still complete, we will give you a full refund for those Party Bags.
Notice ~ Last Minute
So far our quickest ever "Order to Delivery" time was 8 Minutes! So, although it helps us to have as much notice as possible for the number of Party Bags you would like for your party, we do usually have a some in stock, so if you get to the day before the party or even a few minutes before, and realise you've forgotten to order your Party Bags, don't worry, just give us a call and we'll do our best to accommodate you!